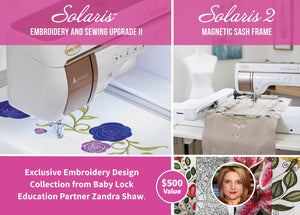 Get the fall 2020 upgrade for your Baby Lock Solaris! You'll discover all the features to keep your machine at the top of its game.
Extra Design Fill-Stitches for IQ Designer - Total of 42 Decorative Fill Stitches
 - New quilt sashing/border patterns
 - Shorter (regular sized) buttonholes for embroidery
 - 50 NEW Embroidery Patterns
 - The Auto Stipple Feature now includes more decorative fills from IQ Designer.
 - NEW Feature - Ability to change the sewing order of patterns on your screen for embroidery
 - NEW Feature - Placement Sticker System works with the camera in sewing mode for perfect planned decorative stitches
 - NEW Feature - Wireless compatibility with your smart device allowing easy transfer of images to the machine to convert to embroidery
 - NEW Feature - Background image and outline extraction feature