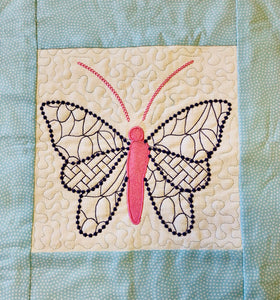 This class will be a Zoom Class and then the video will later be uploaded to a private Facebook Group.
..
In this class, you will focus on the IQ Designer / Design Center features of you machine. You will see how to create and edit a design. You will also learn how to work with a scanned image. You'll see how to create a stamped image and an applique. And finally, we will play with line justification, stippling and color sorting in the embroidery features of machine.
..This is a complimentary class to our customers who have purchased the Solaris or Luminaire from A1 Vacuum and Sewing in Reno NV. Please reach out via email or phone and we will enroll you in the class. If you purchased your machine elsewhere please continue to register and checkout.

Supply list will be provided upon registration for the class. 

..
All classes start at the designated time and begin wrapping up ten minutes prior to the scheduled end to class. Late arrivals are accommodated up to ten minutes after a class commences. No guarantee for accommodation is made for arrivals later than ten minutes.
..
Cancellation Policy: Class fees are required at the time of registration to hold your place. Because we must ensure that teachers are compensated for class time, there are no refunds for cancellations. You may receive store credit when you cancel within 72 hours of the scheduled class , if we can fill your place from the waiting list.  We reserve the right to cancel classes due to under enrollment or weather, at which time a refund or store credit will be issued. A1 will do its best to notify students of a cancellation at least 3 days prior to the class date. There are absolutely no refunds or compensation for no-shows.
Skill Details:
All Levels