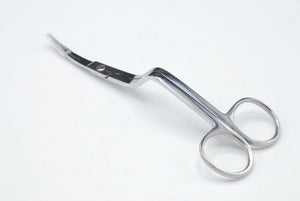 Famore Double Curved Scissors have a unique curved handle designed for getting up and over machine embroidery hoops.

Used for trimming threads in machine embroidery projects and needle arts.
 
The Curved Blades allow safe Controlled Cuts ensuring no snagging or gouging of fabric, making them a great tool for Longarm Quilting.

The Double-curved design allows comfortable hand positioning above work in the embroidery hoop or at the sewing machine.

The Large handle Rings allow you to get in and out of the scissors quickly and easily.