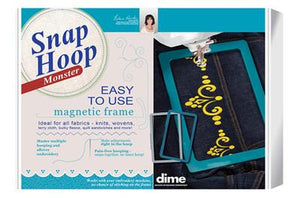 Easy to use magnetic frame! Experience the effortless one step method to hoop and align fabrics. The secret of this magnetic hoop is in the patented design.  It's perfect for:

Terry cloth
Bulky fleece
Quilt sandwiches
Heavy fabrics
Continuous embroidery
Allover embroidery
Easily make adjustments to hooped fabrics. The Snap Hoop Monster is easy to use and offers pain-free hooping with no hand strain! Stop hoop burn and master allover embroidery and multiple hoopings. With the Snap Hoop Monster you can stitch all the way to the edge of your fabric. 
This item has various sizes please make sure you select the proper size for your embroidery machine. The snap hoops featured are for Babylock or Brother single needle Embroidery Machine.
These may be a special order:
4"x4"- MSRP: $149.99   
5"X7" MSRP: $159.99    
6"X10" MSRP: $209.99   
7"X12" MSRP: $209.99   
8"X12" MSRP: $219.99   
8"X8" MSRP: $209.99   
9.5"X14" MSRP: $229.99   
10.5"X10.5" MSRP: $229.99   
10.5"X16 MSRP: $229.99