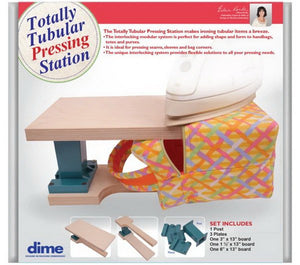 The Totally Tubular Pressing Station is an interlocking modular system perfect for adding shapes and form to handbags, totes, and purses. Easily press seams, sleeves and bag corners. It's a new school way to iron!
Get stoked by the flexibility this system offers. The narrow  1 1/2" x 13" board works for pressing tight areas such as corners or bags and clutches while the 3" x 13" board easily accommodates children's garments, sleeves, and handbag side panels. Use the 6" x 13" board for garment necklines, totes, purses, and even backpacks. Get peak professional ironing results with this totally groovy system - it's Totally Tubular!
The Totally Tubular System is easy to assemble and provides a sturdy foundation for all your pressing needs. The set includes
1 Post
3 Plates
One 3" x 13" board
One 1 1/2" x 13" board
One 6" x 13" board
We have limited quantities in stock, your order may be a special order item.