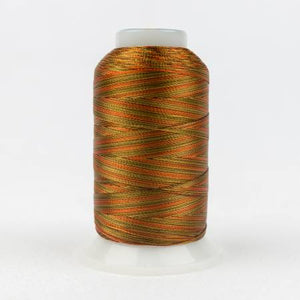 Mirage™ is a 30wt rayon thread with a beautiful sheen, and has been random space dyed in variegated colours meaning that every spool you pick up is completely unique! Available in 40 colours, the random colour changes and contrasting tones of this thread are perfect for adding a naturally fluid appearance to your next project. Strong with minimal stretch, Mirage™ is ideal for free motion quilting, decorative stitches and thread painting.
Color: Variegated Orange and Green

Recommended Needle Size: Machine: 90/14 Embroidery, 90/14 Topstitch, Longarm - 16 and Hand: Assorted embroidery

Made of: 2-ply Random Dyed Multi-Coloured Rayon

Recommended Use: Free motion quilting, decorative stitches, embroidery, thread painting, couching, colouring.

Thread Weight: 30wt

Length: 800m