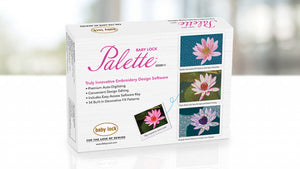 Baby Lock owners can purchase this product.
Using this advanced software, you'll create and edit embroidery designs easier than ever before. Baby Lock Palette 11 software takes your embroidery machine's capabilities to the next level. You'll enjoy improved functionality that makes every step of digitizing easier. All-new editing features help you perfect your embroidery projects.
Did you know that Baby Lock offers FREE webinars to help you open up new creative possibilities? Check out these great webinars and learn more about all that Palette 11 can do for your embroidery projects! Watch FREE Palette 11 webinars.