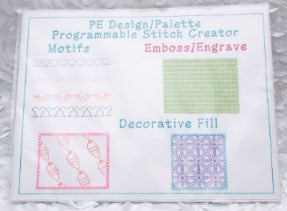 Programmable Stitch Creator is a feature of PE Design 11/ Palette 11 software that allows the user to create their own personal motif stitches, embossing/engraving and decorative fills. You can save and use these fills in any embroidery design you create as well.
If you own a Luminaire with upgrade 3 or a Solaris with upgrade 3 you have the bonus feature of being able to bring these and all the included fills and motifs from the software to be used in with Design Center or IQ Designer! 
Prerequisite is completion of Software 101.
Class consists of two 2-hour sessions. Homework will be assigned after each class.