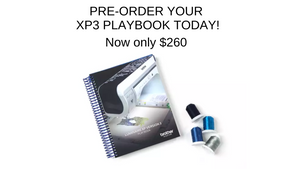 THESE ARE CURRENTLY ON ORDER AND WILL NOT BE AVAILABLE FOR PICK UP UNTIL THE WEEK OF 3/17/23.  PLEASE ORDER ACCORDINGLY.
XP3 Playbook Description:
Version 3 of the XP Playbook has been developed as a companion to the Luminaire 3 to help you make the most of this extraordinary machine. The book is a compilation of step-by-step projects designed to help you learn the features and show you creative ways to use them. The included USB flash drive contains videos to accompany the lessons and is meant to be viewed on your computer or directly on your Luminaire. The exercises are independent, so you do not have to complete them in order. Feel free to learn at your own pace. As a bonus, there are project files on the USB.
Companion to the Luminaire XP3 Sewing and Embroidery Machine
NOTE:  This product is PREORDERING a Playbook. It is for pick up only. If we sell out, we will take orders with a future delivery date.  We will fulfill orders based in the time they were placed.